Singularity in focus, persistence and patience- my Chevening journey to the LSE
"…Is the risk worth taking?" asked Ugyen, a friend of mine in December 2019 when I requested him to pay my deferral fee of £1,000/- to the London School of Economics and Political Science (LSE) through his account. Actually, I borrowed some amount from him. There was neither a guarantee that I would earn a scholarship nor an assurance that I would be able to mobilise the required fund. Meanwhile, I had applied for Chevening Scholarship (Chevening) 2020-2021.
As I was considering my postgraduate studies in the second half of 2017, reading "Lee Kuan Yew: Hard Truths to Keep Singapore Going" gave me the sense and the feel of what it means to go to Oxbridge universities and Ivy League schools. A section of the book in which the late Minister Mentor talked about Lee Hsien Loong's study at the University of Cambridge kindled hope in me. Ever since I realised the need to pursue my postgraduate studies, I couldn't think of other destinations than the United Kingdom (UK). Besides academic rigour and Bhutan-British interactions, my preference stemmed from my interest in British English. For example, I tried to use river Kurichu when the majority of the Bhutanese would choose Kurichu river. Also, my dream to watch Liverpool Football Club play at the Anfield singing its anthem, 'You'll Never Walk Alone' was too strong to shelve it.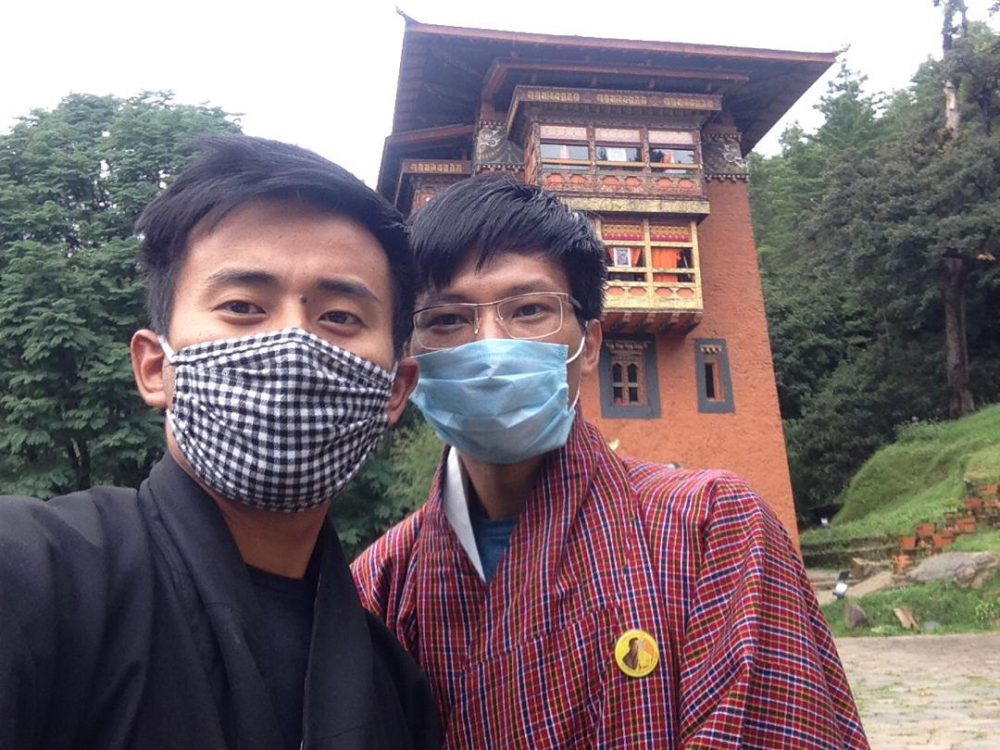 Spirituality is an integral part of Bhutanese way of life. I paid my homage and invoked the local deity, Geynyen Jagpa Melen at Dechenphug for his blessing before my departure to the United Kingdom. Picture courtesy: Kezang Dorji
In lead up to my postgraduate studies application, I sent my academic credentials to the National Recognition Information Centre (NARIC) for the UK to assess whether or not my qualifications fulfilled the UK universities requirements. Although I couldn't make much sense from the statement of comparability, I was strong headed to go ahead with the application process. I wanted to pursue economics but my incompetency in mathematics and lack of relevant qualification discouraged me. History continues to be my best subject. However, introduction of democracy in Bhutan and her increasing engagement with the wider world drew me closer to political science. In the region, much has changed since the historical Buddha turned the first wheel of Dharma at Sarnath (India) in the 4th century BCE and King Trisong Detsen built Samye (Tibet) monastery in the 8th century AD. To the south, India became the 5th largest economy leapfrogging the traditional economic giants such as the UK and France. To the north, China is projected to become the richest country by 2050. Against this backdrop, I decided to study International Relations.
If I am to realise my educational goals to study at the UK, Chevening was the only realistic path I could foresee. Going through the Chevening partner universities for 2019-2020 scholarship window, the LSE drew my interests for a couple of reasons. First, it is one of the leading and dedicated universities in the social sciences. Second, its motto, 'understanding the causes of things' and 'for the betterment of society' struck my chord. I could connect it with my own story, instantly. In 1999, when I was studying in class/grade IV (III) at Bumpazor Primary School, Drepung, Mongar, my agrarian illiterate mother came to attend the school's cultural programme. She could not bear when she saw me taking part in a dance, barefoot. Embarrassed, she returned home, right away, I was told that evening. Reflecting on this and other similar incidences, I make an effort to 'understand the causes of things.' My long-term aspiration to work in a think tank and the LSE's association with the Fabian Society deepened my interest, further.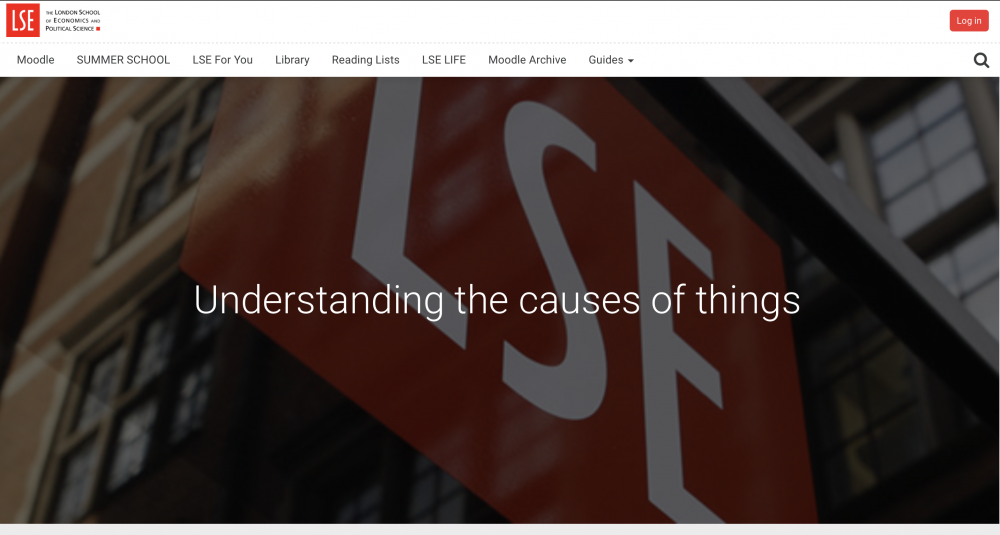 The LSE's motto 'understanding the causes of things' echoes the school's focus on social sciences and related issues. Picture courtesy: The London School of Economics and Political Science
An applicant of Chevening is expected to choose three courses, either three similar courses in different universities or different courses in the same university. My first option was MSc in International Relations at the LSE. My other options were the same course but at Lancaster and Exeter. I did not make a place for the Chevening interview 2019-2020. Worse, my dream to study in the UK was questioned when Exeter and Lancaster were not able to offer me a place. One of the universities [name deliberately omitted] admission team wrote,
"For our MA International Relations programme we require applicants to have obtained a qualification equivalent to a UK 2.1 Honours degree or better. Unfortunately based on advise from our international office we equate your highest qualification as being comparable to a UK ordinary degree which falls below our requirement." (Email dated 22 January 2019).
It did not surprise me because I drew parallels with experiences of my friends whose three-year degree under the Royal University of Bhutan (RUB) were not recognised in some of the universities in Australia. However, I have Postgraduate Diploma in Public Administration and Diploma in European Union and International Law in addition to Bachelor of Arts in History and Political Science (the course is no more offered) from the Sherubtse College. The reality stood, however. It made me think, 'perhaps I should take a baby step by doing double masters', second in the UK. In the meantime, I have already submitted my resignation from the Anti-Corruption Commission (ACC) reasoning that I want to 'to go back to village' in the long run. There was no looking back! With my dream to pursue postgraduate studies in the UK in immediacy out of way, I worked as an Assistant Lecturer at the College of Language and Culture Studies (CLCS) on contract. And, there was a pleasant surprise to come!  An email from the Head of Admissions [LSE] read,
"Congratulations! I am delighted to make you this unconditional offer of admission to the MSc in International Relations for the 2019/20 session as a full-time student." [Email dated 08 April 2019].
It was too good a news to be true. Having declined a place by Lancaster and Exeter, I concluded that LSE was beyond my reach. To this effect, I have destroyed my application essays, too.
On having secured a place, I explored funding support. Loan on my parental land in the village wouldn't get even 1 per cent of the fee. As a contract employee, obtaining loan on my service was out of question. I reached out to few charities, institutions and individuals but it did not materialise. An Australian fundraiser also helped me connect with potential sponsor but the amount was supposedly too huge to finance. I ran a crowdfunding on gofundme but it wasn't of much help. With all possible options exhausted, I decided to retreat; I did not concede the defeat. Hence, in August 2019, I applied for deferral which was duly granted.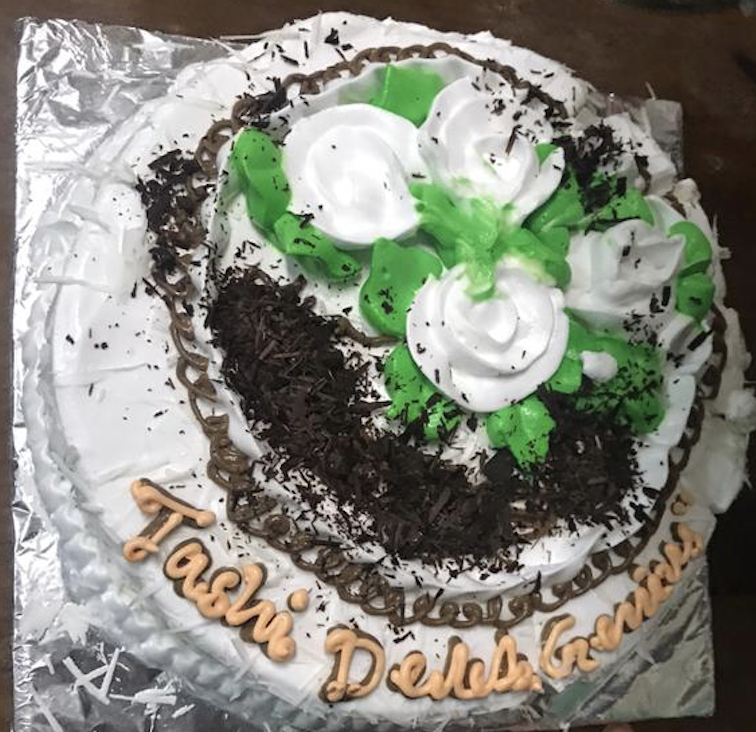 A congratulatory cake arranged by friends on I being conditionally selected for Chevening. During my undergraduate days, they affectionately used to refer to me as 'genius'. I used to be quite good in quizzes. Picture courtesy: Kezang Dorji 
Meanwhile, mentors, supervisors and friends alike would advise me 'not to narrow the focus'. One former lecturer of mine commented, 'you want to return to your village. Availing loan for studies would delay your return.' Consider other options as well, she continued. Some critiqued me that I am being too rigid. That said, support they showered on me is second to none. I was a vagabond for three months between July and October 2019 staying at a friend's place. After that, I joined a civil society organisation in Bhutan Centre for Media and Democracy (BCMD) on a short-term contract keeping in provision that I will go for my postgraduate studies come September 2020. Acquaintances would share with me scholarship information through an email. Yet, I couldn't think beyond the LSE to the extent that I did not apply for two other universities/courses which I listed in my Chevening application 2020-2021, my second time application. This time, I was shortlisted for the interview. Besides reviewing my application essay, I made calls to the Gross National Happiness Commission (GNHC), central planning agency of Bhutan and the Ministry of Foreign Affairs to get some information on the UK government's engagements in Bhutan. Singularity in focus, persistence and patience was paid off when I was informed that I have been chosen for Chevening 2020-2021.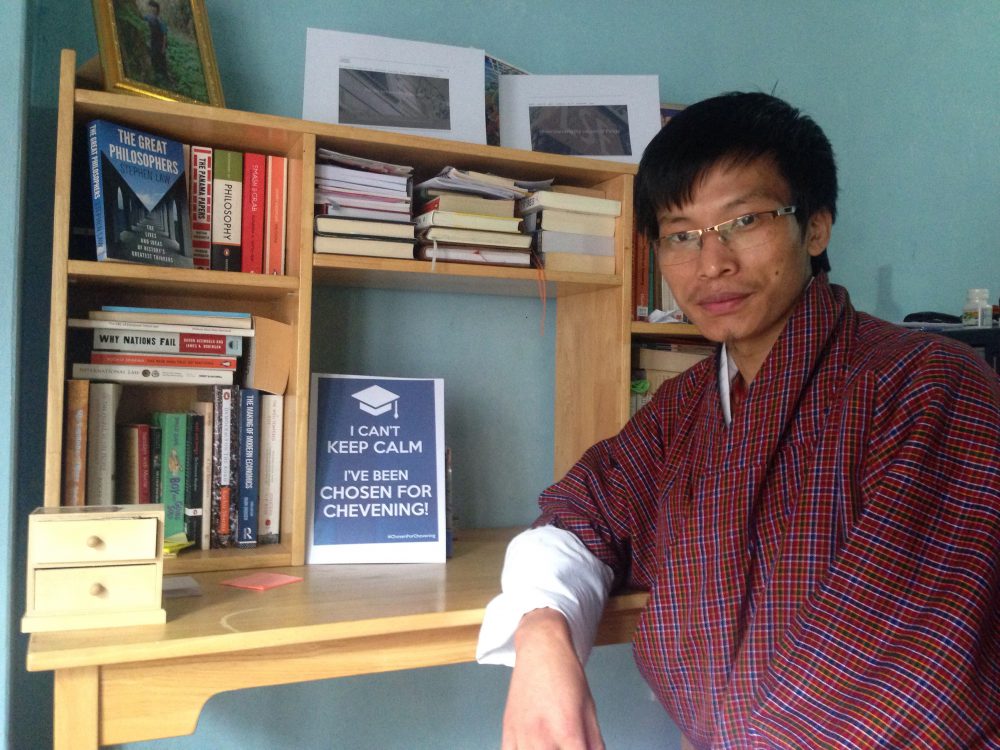 A moment in the midst of nationwide lockdown (of COVID-19 pandemic), preparing to leave for studies at the LSE under the auspices of Chevening scholarship. Picture courtesy: Kezang Dorji
As I immerse into the rigour of academic pursuit and standards of the LSE, not having to carry the weight of history (ancestral legacy) reliefs me of pressure. Nonetheless, I carry hopes of those countrymen born among spades and sickles that if we work hard and have a bit of patience, our benevolent monarchs have put in place fundamental system and infrastructure so that each one of us can achieve our goals and make a difference (positive). And, I have a lot to do and a lot to learn. I will be studying International Relations which would help me get a grasp of complex global order through multidisciplinary lenses. Back home, India (rgya) and Tibet (bod) are only reference points for my parents to explain the world beyond Bhutan. My roots help me stay grounded.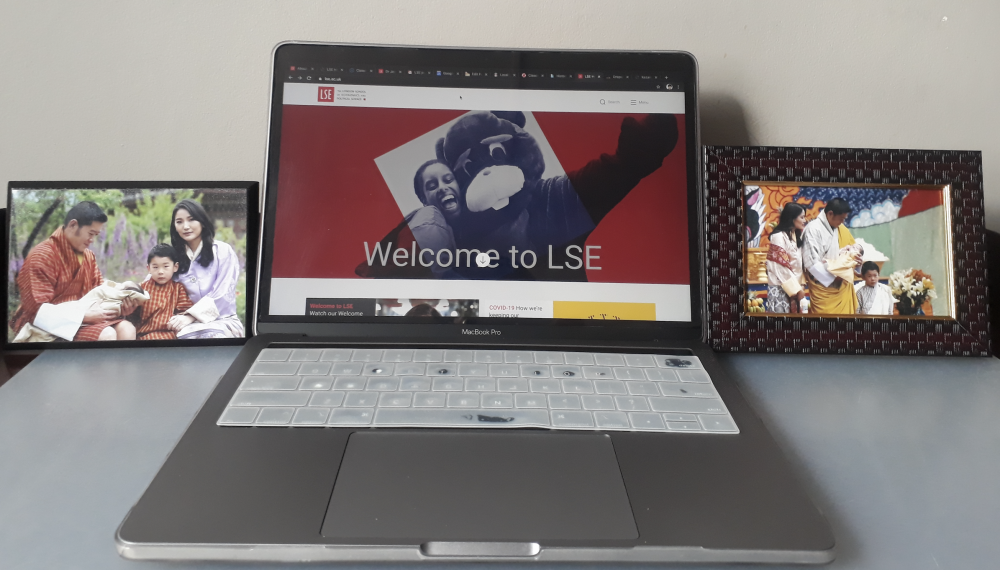 From a list of departure gifts, portraits of His Majesty the King, Her Majesty the Queen, the Crown Prince and the Prince are thoughtful reflections of Bhutanese belief in tendrel (dependent or connected). Picture courtesy: Self (Dechen Rabgyal) 
In that light, studying at the LSE is not an end in itself. Rather, it is a means to pursue my goals, i.e.  to make a difference in the lives of my birthplace, a village of 14 (16) households. To this end, Chevening's networking opportunities and the LSE's proven records in transforming career plans will help me move closer to the goal I have set, however small and indicative it appears to be. And people continue to ask me, 'what after the LSE?' I want 'to go back to village'. Another question ensues, 'are you joining politics?'