Heart, Home and Hope- A Story of Possibility
"...I don't need much. I am already old. I might die soon," [Journal entry dated 23 May 2021], Abi Rinchen was  said to have told, narrated Mr. Chimi, a friend of mine. 
On 22 May 2021, after going through the Kuensel's story, 'Hard-pressed, old, and alone', I shared the story in the 2007 Gyelposhing Higher Secondary School (GHSS) alumni group suggesting if we could contribute some amount, collectively. Chimi, a friend and schoolmate for four years [classmate for one year, X 'C'], currently placed at Mongar Regional Referral Hospital has dropped me a private message, "...let's do it…"  
After a short video call on 23 May, we decided that he will do the groundwork (assessment and coordination at site).  We also got in contact with the reporter, Mr. Tshering Namgyal so that we can gather more information and work collaboratively. That very evening, he went to Abi's place to assess what can be done.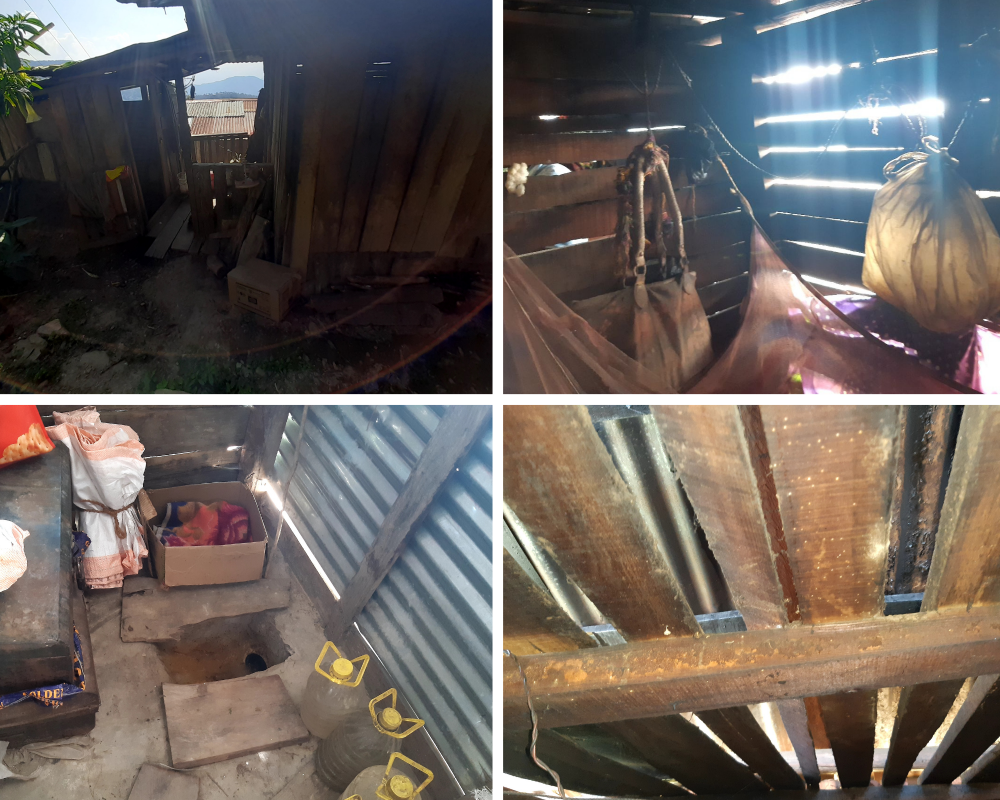 Abi Ricnhen's home before. PC: Chimi Tshewang [Collage: Dechen Rabgyal]
"...I don't need much. I am already old. I might die soon..." It was too powerful a narration of Abi's comment by Chimi to leave it unattended.  From retrofitting, light/power (electricity), utensils, inadequate clothing to mattresses, there is a lot to be provided (beyond our ability to support, singly). We reached back to GHSS alumni with a detailed assessment (without cost estimate). I reached out to my friends, viz. group friends, alumni groups of Foundational Leadership Programme-2 (FLP), the Royal Institute of Management (RIM), and the Sherubtse College. We chose to keep the fundraising drive a low profile because we thought we could get the required amount for her needs considering the indications we got. 
As contributions poured in, Chimi expressed his immense gratitude and admiration for kindness, love and compassion. On 24 May, I indicated to him that a friend of mine and his group by the name, 'Nu. 100 Monthly Altruist' has indicated Nu.10,000/-. "Wow…rare species," Chimi responded. I appreciated the early indications but wasn't taken by surprise for I am a firm believer of 'Buddha Nature' and Lockean 'Tabula Rasa' on which I wrote elsewhere. 
More people joined our Telegram group. Conversations took off and deepened. Yan, a friend of mine from FLP-2 (an acquaintance at RIM) contributed Nu.10,000/- representing his group, the 'Nu. 100 Monthly Altruist'. He also shared pictures (of houses/shelter) from similar support they provided in Zhemgang a couple of years ago. Discussions on whether or not a proper shelter was needed to be built altogether also emerged. The hut Abi Rinchen is putting up is found to be in 'good structure'.  Commenting on those pictures, Chimi stated, "I have seen…people everywhere but u [you] guys are diamond[s] here" [25 May 2021]. His comments got me thinking. After making the contribution, Yan left this message in the group, "…Thank you so much for giving us the opportunity to be part of it. Let us know if we can be of any help at any time la..." [27 May 2021]. 
On 26 May 2021, coinciding with the Lord Buddha's Parinirvana, a friend of mine from RIM, currently placed at the Bhutan Development Bank Limited, Mongar, Mr. Tenzin has visited Abi with some essentials [as his Facebook post indicated]. I reached out to him. Among others, he shared, "...Such kind of elderly people deserve [a] better home like any other people…Now so many such cases in our country…" "They do deserve [it]. In a way, it is also a topic of public policy," I responded. 
If one has read Kuensel's story, it is evident that as traditional extended and nuclear family structure gets loosened, such trends are likely to rise, if not already arisen. Look out for my perspective on "Pham-Buzhi- a prototype for Bhutan's welfare state" at www.dechenrabgyal.com in June.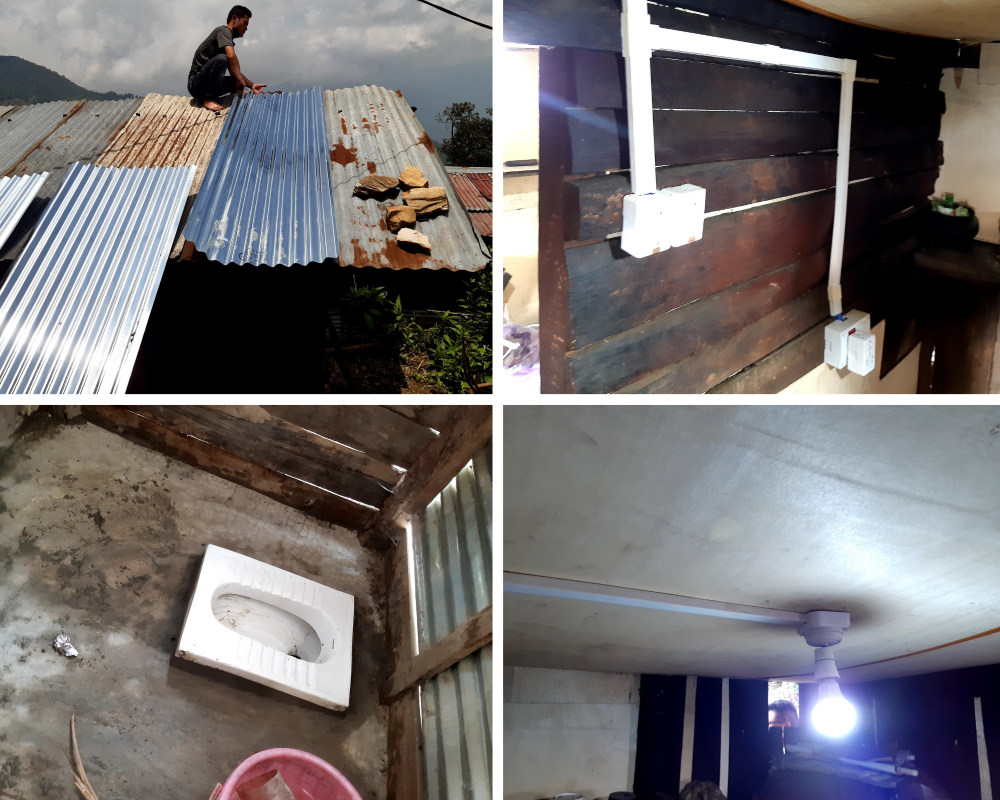 Abi Rinchen's home after [now]. PC: Chimi Tshewang [Collage: Dechen Rabgyal]. [To those who are very particular about pictures (resolution etc…), these aren't up to the mark]. 
Meanwhile, we could mobilise Nu. 39,295/- in a week's time (23-30 May 2021). Chimi and his friends in Mongar have retrofitted, electrified, and roofed Abi's home (hut). They repaired and upgraded the toilet besides provision of mattresses from the contribution Abi was able to get. The team was also able to do concrete flooring [in short of better/appropriate term]. We express our heartfelt appreciation for all those who contributed. In their contributions, I saw the warmth in their hearts. In getting that support, Abi Rinchen got reasonable shelter [given earlier situation] and a hope. In Chimi's ability to mobilise his friends and get the task done in such a short time, it gave me hope that if we can identify the cause and get the messaging right, even our quite often complained about public service might be able to improve. Is the possibility real? How does that innate goodness (Buddha Nature) in us not get translated into our public service?  Or am I dreaming of Utopia?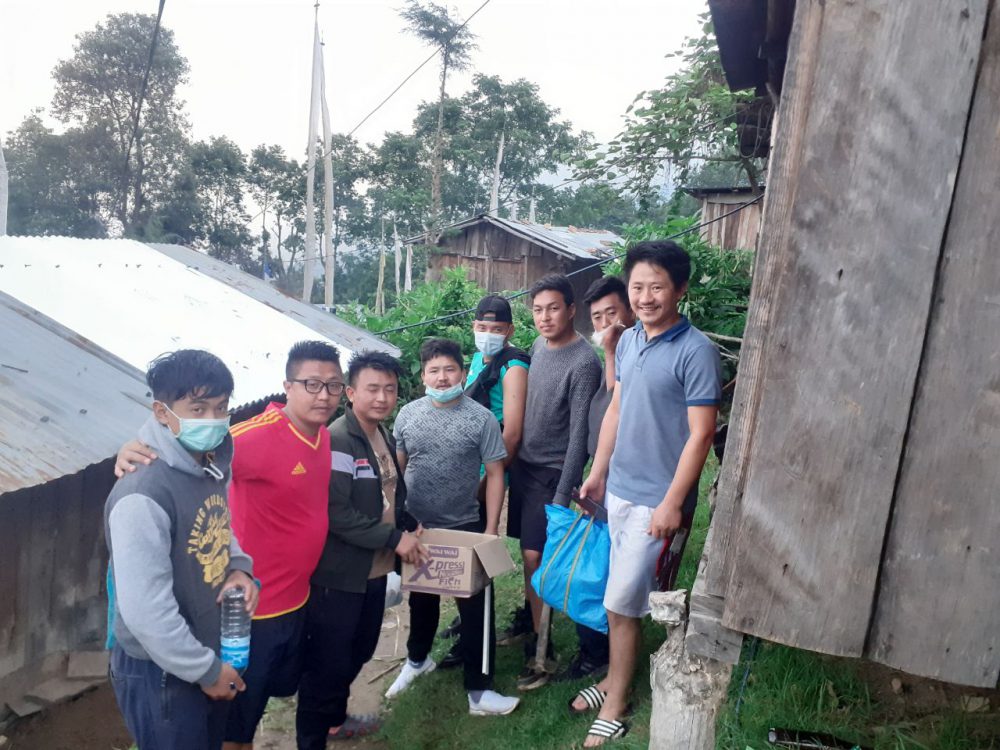 Volunteers who contributed physical labour at Abi's place. PC: Chimi Tshewang
To facilitate direct support (cash transfer) for Abi, drawing some insights from Brazilian President Lula's social policy, 'Bolsa Familia', one of the most effective social policies in poverty alleviation as discussed in Jonathan Teppermen's book, 'The Fix', we have opened her a Bank Account at the Bhutan Development Bank Limited. The remaining Nu.12,610/- from the contribution has been transferred. If one wants to contribute, either Chimi and I can share Abi's account details [we did not make it public here for privacy reasons and potential risk of compromising the account, later].  Please do reach out either to Chimi at tshewangc508@gmail.com or to me at dechen.rabgyal@gmail.com. If we are already in contact on social media, a message would do. If there are any better ideas in responding to such matters through informal networks and individually, please feel encouraged to leave your comments for the  benefit of us all.  
To all contributors, we are pleased to share the details of money collected [dates are provided if one wish to crosscheck the transaction] and expended. We have provided the details from the second round of contribution [Round II]. The first round of contribution was closed on 30 May and the second on 27 June 2021 as indicated by the transfer record.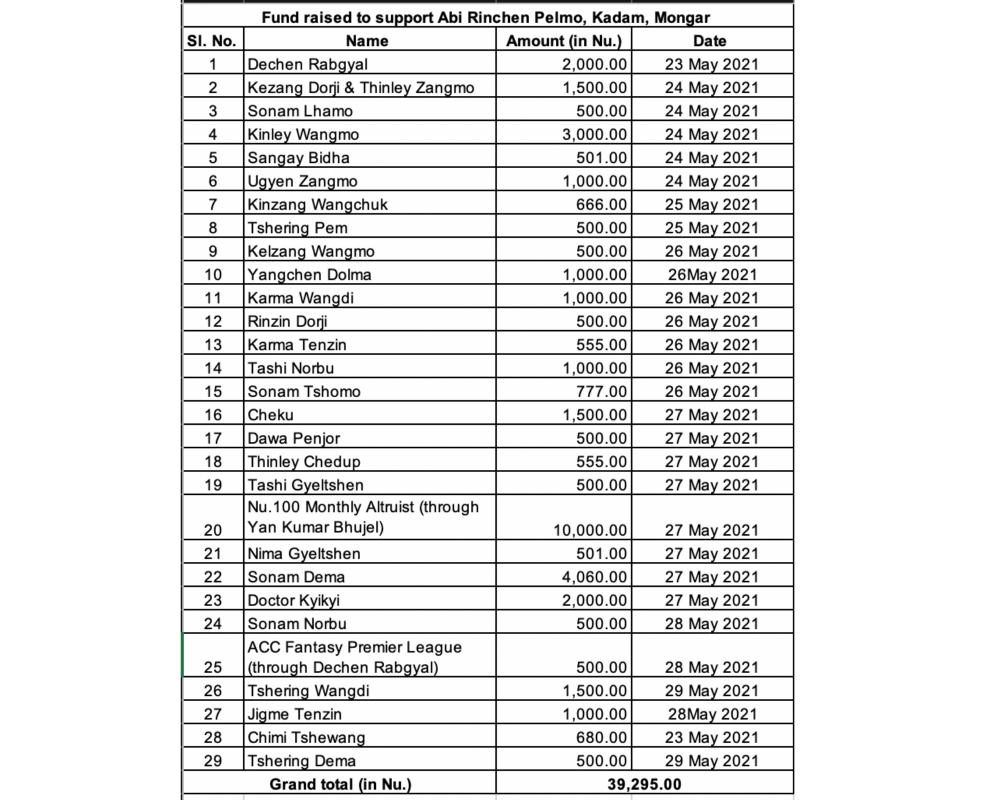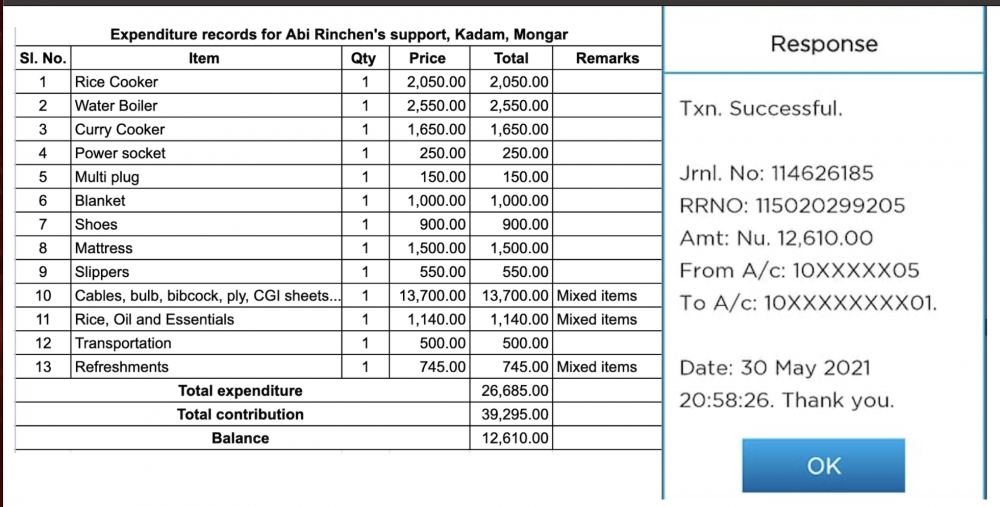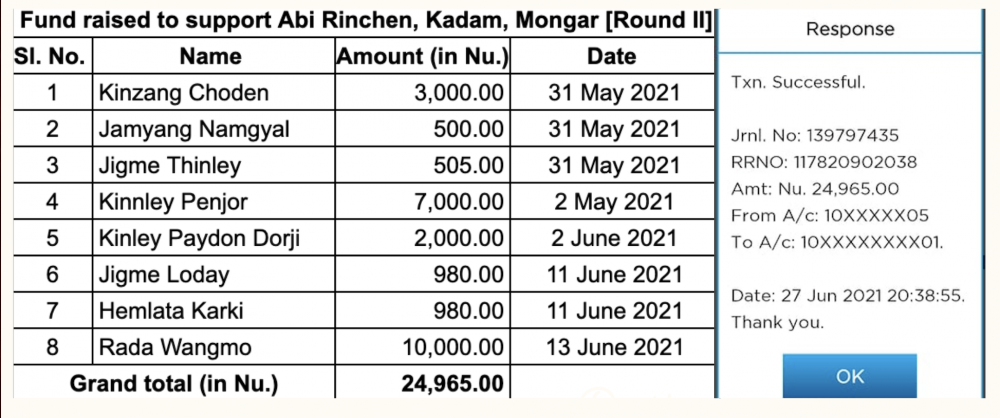 PS: I wrote this this piece for three interrelated reasons [otherwise a small effort (and small amount for rich and affluent) that does not necessarily merit/warrant such publicity]: 
First, a report for and an acknowledgment to all the contributors. Second, to help connect Abi Rinchen with others who would be in better position to help her hereafter [one reason for opening the bank account]. Third, to express my deepest appreciation to all the contributors, Chimi's friends, Mr. Tshering (Reporter) and all the contributors. I never thought that we would go that far when I first dropped the message in the GHSS alumni group.